Angie with The Country Chic Cottage is here today sharing her Christmas front door decorations that were all purchased at Old Time Pottery. If you are feeling the Christmas spirit and love farmhouse style, we know that you are going to love this setup.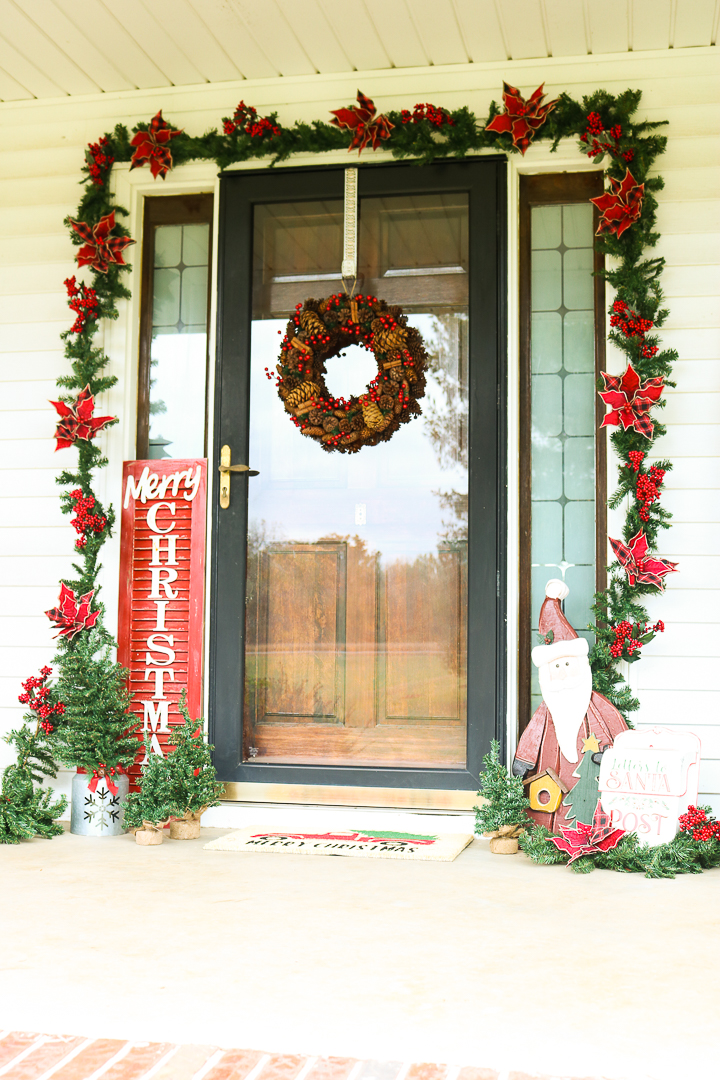 Get everything from wreaths to doormats to garlands and more at your local store. Then spend a few minutes welcoming in the season around your door. Guests and neighbors will love this touch of the season. Plus, it will put a smile on your face every time you pull in the driveway!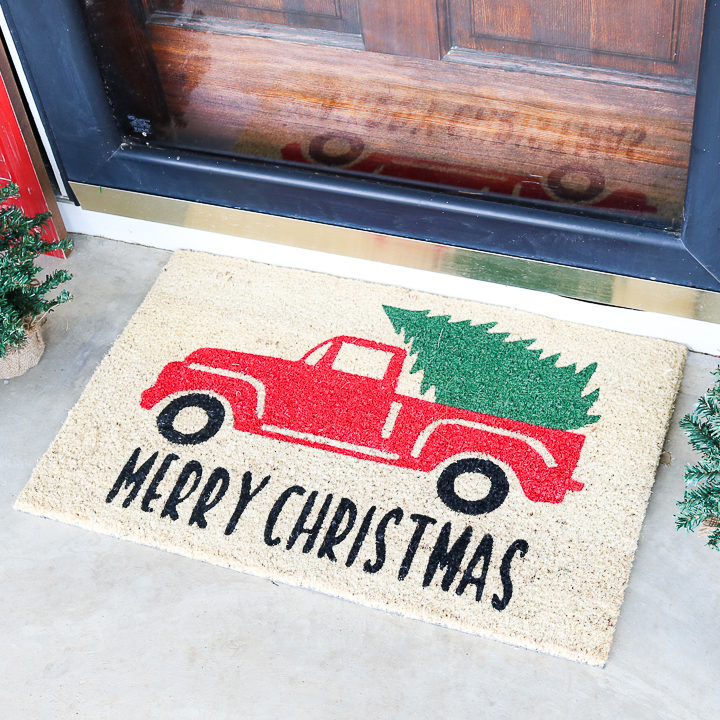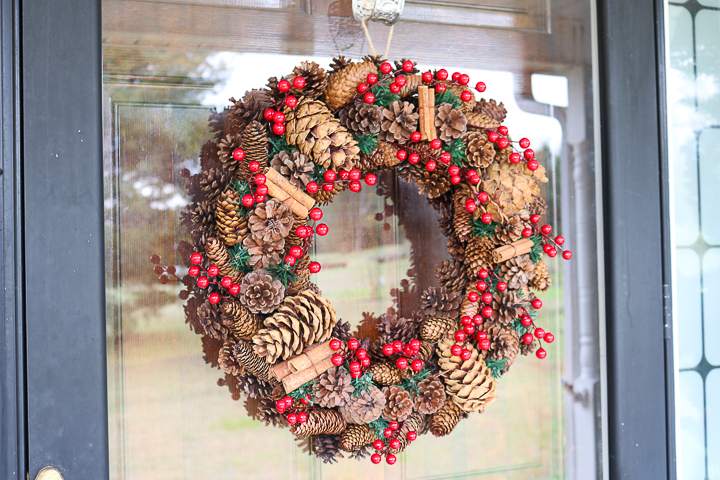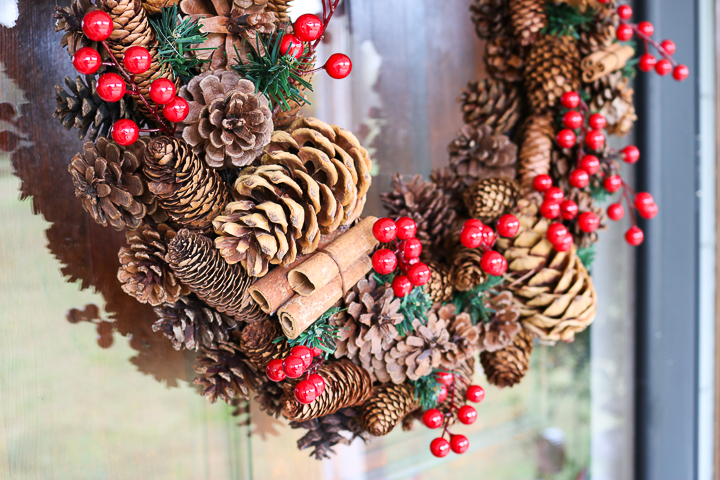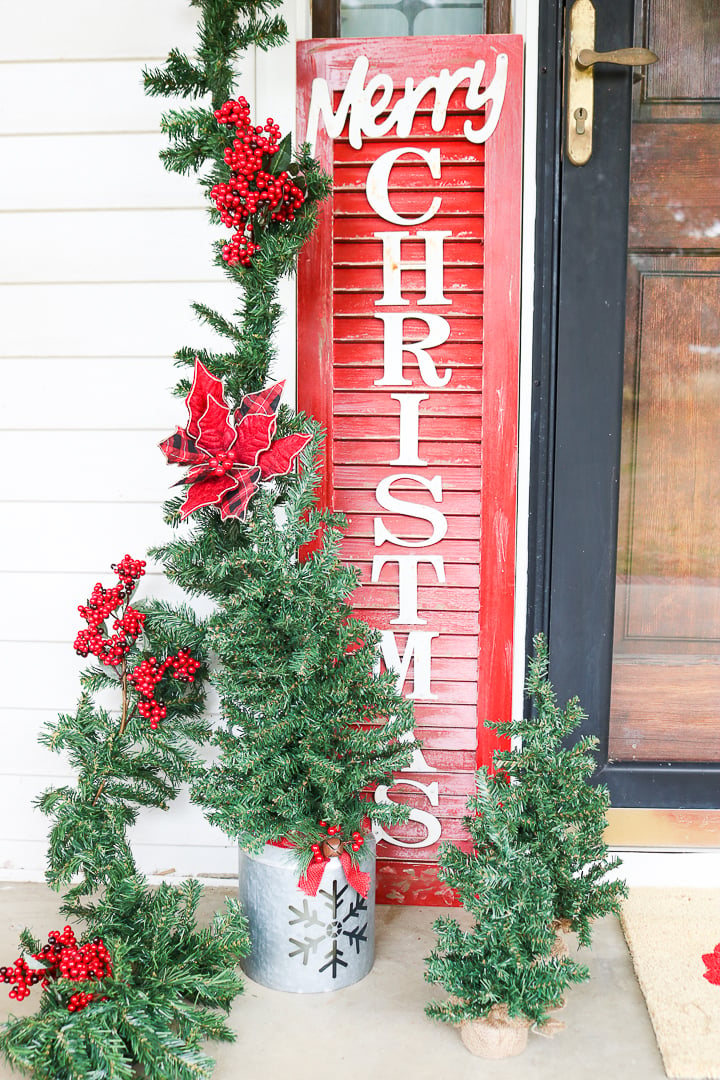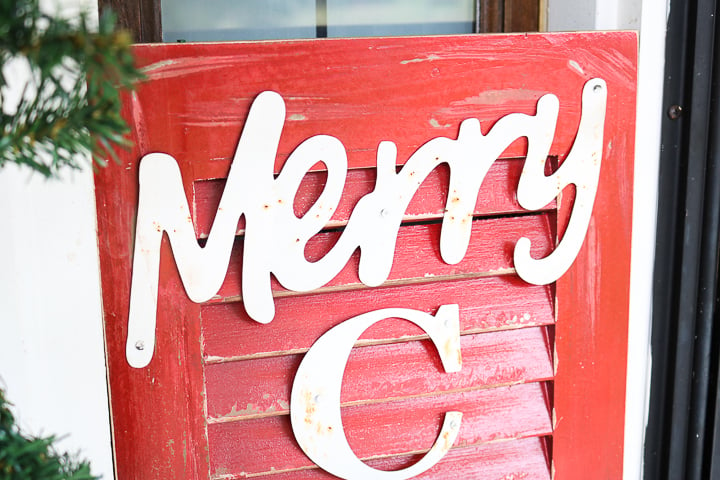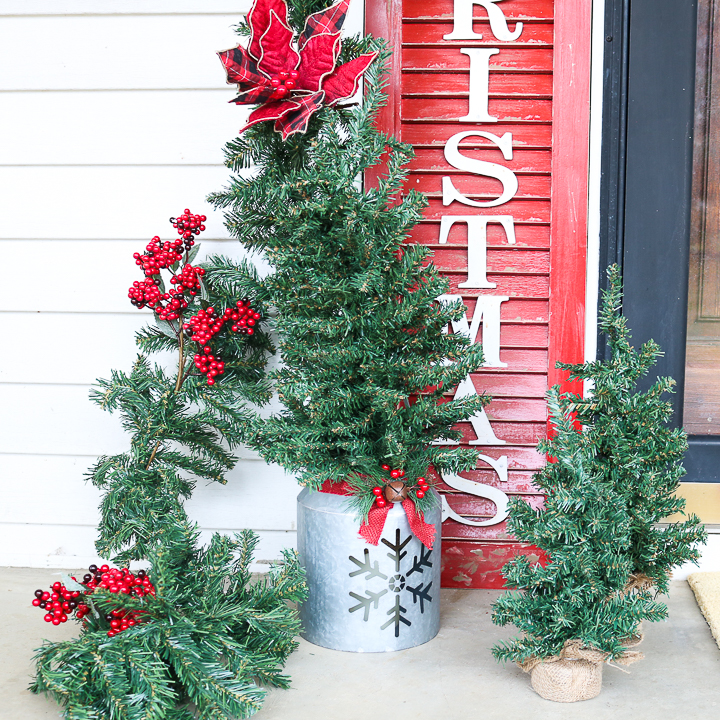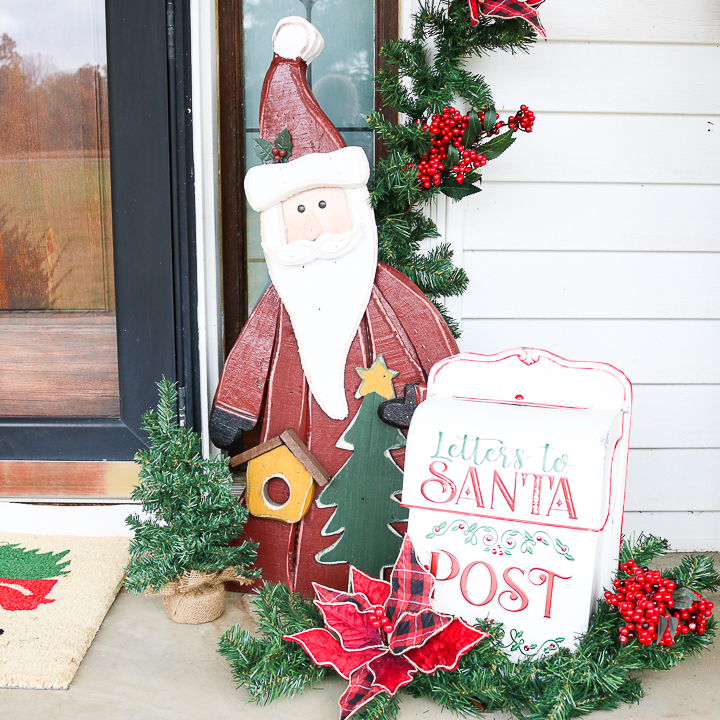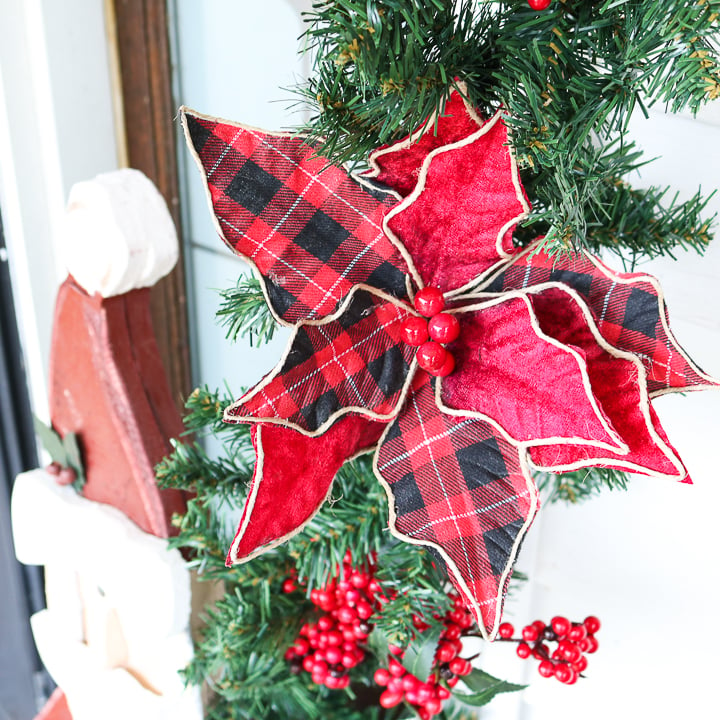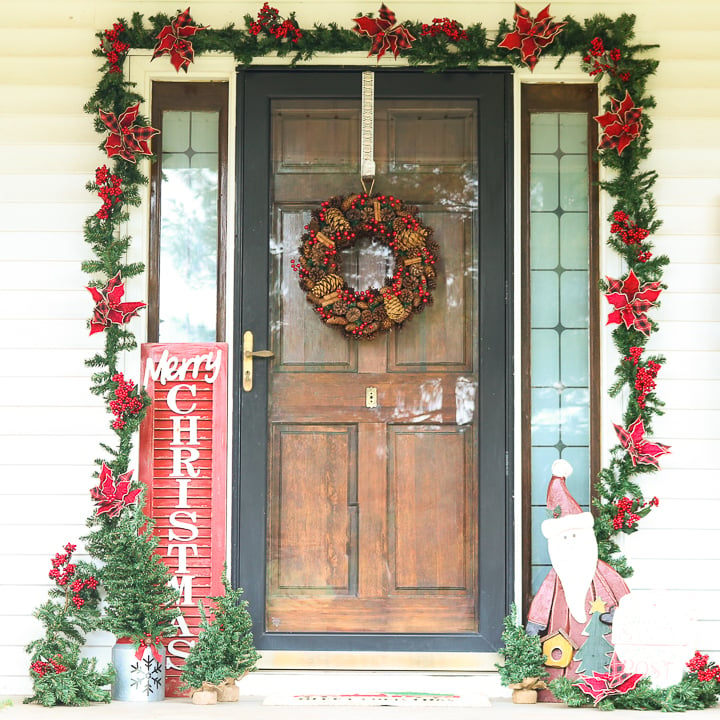 See details and learn more about this farmhouse style front porch
over on The Country Chic Cottage
. You are going to love all of the small details and rustic touches that Angie added to her home. Then you can use those ideas to jump-start your own decorating this holiday season. 
Old Time Pottery Door Decorating Tips
Once the tree has been trimmed, and the lights on your evergreen are twinkling, it's time to think about decorating your front door for the holidays. These front door Christmas decoration ideas will have your front door looking festive in no time. Bedecked and bedazzled with garlands, wreaths, and lights, your front door and entryway will be filled with Christmas cheer. These front door Christmas decorations ideas will make your entryway merry and bright.
Different Styles of Christmas Front Door Décor
Below is a list of different styles of Christmas front door décor to inspire you. With a little bit of creativity, your home will have Christmas curb appeal galore and give your guests a warm welcome when they stop by for holiday cheer. You'll find everything you need for holiday and seasonal décor at Old Time Pottery.
Traditional Christmas Front Door Decorations
You can't go wrong with traditional red and green. These colors are especially striking against a bright white background. The traditional colors and lush greenery of the decorations create a festive look and feel.
Hang two large wreaths with big red bows, one above the other on the front door. Add a frosted garland to the porch roof or portico and wind it around the columns or railings if you have them.
Group bright red poinsettias and black or white LED lanterns along each side of the doorway and down the steps to add freshness and depth to this traditional theme.
Use stand-alone snowmen, snowflakes, and icicle-style lights to give the porch a wintery feel.
Flank the doorway with potted, spruce trees and more greenery. Use white lights on the trees and greenery to support the traditional look.
Stencil snowflakes on the windows with spray-on snow.
Don't forget the mistletoe.
Rustic Christmas Front Door Decorations
A rustic holiday decorating theme works well if you enjoy blending your décor with nature. This theme brings a cozy, comfortable vibe to your entryway.
Wrap a pre-lit garland around the front door, porch railings, and along the roofline.
Hang wicker baskets filled with Christmas greens. Mount a natural grapevine wreath festooned with bright red berries on the door. Alternatively, attach silver ornaments and wind burlap silver ribbon around the wreath.
Place a Christmas tree – either natural or artificial – in a rustic pot on your porch. Decorate the tree with pinecones, white lights, and berry garland. Or, if you've chosen silver ornaments for the wreath, use matching decorations on the tree.
Dress up the rest of the porch with a pair of snow boots, a couple of rustic lanterns, and a welcome sign that gives the porch a homey vibe.
Christmas Gifts Front Door Decorating Ideas
Welcome your guests with gift-themed Christmas decorations for the front door. This sets a festive, holiday mood for entertaining.
Surround porch rails and front door with multi-colored lights.
Wrap large boxes like presents and arrange them around the front porch. Or fill large Christmas stockings about halfway with newspaper. Paint plastic gift boxes to look like gifts and glue them to the stockings, with a few spilling over. Hang the stocking decorations from the porch railings.
Use shiny gift wrap to cover your door and place a big bow on the front so that it looks like a gift.
Fill hanging baskets with wrapped gifts and toys. Set up an airblown Santa on the lawn.
Candy Cane Christmas Front Door Decorating Ideas
A sweet front door display with a candy cane theme will light up the eyes of passersby of all ages this Christmas season.
Transform your porch columns into candy canes by wrapping them in wide red and white ribbons. Augment the color scheme by wrapping red and white lights around the rails, columns, and doorway.
Make a candy cane wreath for the front door. Cut a foam board into the shape of a candy cane. Hot glue candy canes and round peppermints onto the foam candy cane. Add a red bow and a hook, and hang the candy cane on the front door.
Line the walkway to the porch with candy cane stake decorations. Hot glue a large candy cane in the center of a large red bow and hang it from the porch railings.
Line the porch steps with red and white poinsettias.
Seasonal Décor Shopping List
Use these front door Christmas decorations ideas as inspiration for your creativity. Choose the theme that resonates with your personality and sense of style. Take into consideration your front porch's architectural features and your budget when deciding on your Christmas decorations for the front door. Essential items for decorating the porch and front door include:
Wreaths – don't be afraid to go big with your wreath, if you choose one that is too small, it will make the rest of your decorations seem out of proportion and make the entrance look small.
Garlands – this is the best way to accentuate your home's architectural features. Trace the lines of your doorway, doorframe, railings, and window frames and drape them over the railing for additional flair. Pre-lit ones are the easiest to use for porch decorations.
Lights – Christmas lights and lighted décor make your front door decorations shimmer, shine, and glow.
Festive doormat – with a steady stream of Christmas visitors entering your home, a doormat is a must-have. A seasonal doormat adds to the ambiance.
Inflatables – level up your outdoor Christmas decorations with an inflatable Santa, nativity scene, fun penguin, or a whimsical Christmas flamingo.
Potted plants – create height and balance to your porch by flanking your doorway with plants, greenery, and spruce trees. The wider the entryway, the higher and taller your greenery can be.
Front Door Christmas Decoration Safety Tips
Safety is essential front door Christmas decorations should be hung with care for safety. Properly secure lighting and make sure it is appropriate for use outdoors. Never use nails or metal to secure your Christmas lights, use insulated hooks instead. Any extension cords you use should also be appropriate for outdoor use and should not be run across places where someone may trip over them.
How Front Door Décor Sets the Tone for Your House
Your front door is the first, and the last thing guests see when they visit your home. It sets the tone and lets them know what to expect. Christmas decorations on your front door add a festive ambiance that can make your guests feel welcome. And they leave a lingering feeling of warmth when your guests leave. A beautifully festive front porch spreads Christmas cheer to everyone who passes by. They let everyone know you are celebrating the season and greet your visitors with warm holiday cheer.
Stretch your imagination not your wallet when
See the selections and savings in-person at one of our 43 locations
Find A Store
Popular Posts
---
About Our Blog
When it comes to home decor inspiration, we think our shoppers have the best ideas! We have a passion for the unique and beautiful - whether it's decor, food, or furnishings. You'll find simple, inspired ideas to enhance your home and excite your family from real Old Time Pottery fans. Browse all of the looks from Instagram and Pinterest to others' #otpstyle, and use the hashtag to show off your own styles.
Stay in the Know With One Click